The last time I saw Whitney Houston live in concert was at London's 02 Arena in April 2010. It was a sorry affair with the early part of a shambolic set largely spent berating a heckler in the front row. Her vocals fell painfully and consistently short of delivering the high notes from her greatest hits collection and the audience was restless and unforgiving.
She was fractious, out-of-sorts, unhappy and clearly a shadow of her former self. The crowd walked out in droves throughout the performance and, as we all know, within two years she was dead, never again to grace a London stage again with her God-given talent.
Well, at least that's what we thought.
Last night I witnessed Whitney 'reborn' at the Hammersmith Apollo (below) on the "Evening with Whitney Tour" or the alternatively monikered "Whitney Houston Hologram Tour." Brought 'back to life' courtesy of the pioneering tech from Base Hologram, the tour is billed as a one of a kind holographic experience that will reunite audiences with the beloved Queen of Pop using state of the art technology and digitally remastered arrangements of her classic hits. The performance was backed by a live band, singers, and dancers – all surrounded by a spectacular and cutting-edge stage and lighting extravaganza to create a truly breathtaking concert experience.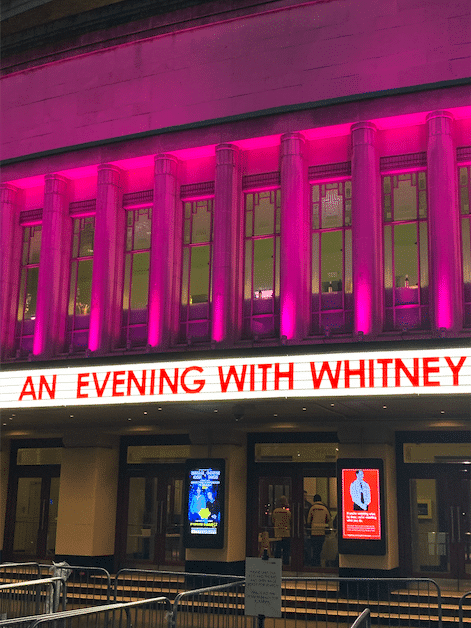 So what's it like?
Well, side-stepping the understandable moral misgivings about reanimating the dead being a ghoulish money-grab, it's actually a pretty spectacular sight. Although we're not yet at the true hologram tech stage (the Princess Leia/R2D2 vision being pioneered by companies like the UK's Vivid Q) the creation onstage is both mesmerising and impressive. I'm not privy to the Base Hologram 'secret sauce' but it looks like a digital projection onto an imperceptible transparent screen. The detail and crisp display create depth, shadow and a truly lifelike, if a little ghostly experience. Whitney appears and disappears between songs by drifting from a blurry, spectral white haze.
Of course there is an inevitable emotional shortfall. The 'interaction' with the crowd is limited (de-risking the chances of things going wrong) and her movement is restricted to the central area of the stage on which the image is projected. But that is really a minor quibble as having her front and centre of the overall show makes a perfect narrative. The voice is, of course, impeccable and the crowd clearly lap up this slightly surreal opportunity to see the hits being performed again.
It got me thinking that the naysayers and hand-wringers about this technology and its application have probably never sat in a concert packed with fans singing their hearts out to the songs being performed by the holographic vision on stage.
That would surely give them a different perspective.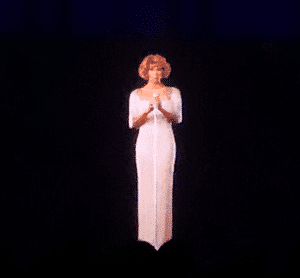 So what of the future? Are we at the start of a procession of reanimated dead performers being propped up by their estate and rights holders to start generating cash? Well, given that there is not massive money being generated by sales of back catalogue CDs or streaming these days, the answer to that is probably yes.
As the tech improves so will the experience. We're really still at a nascent stage of engaging with this kind of technology. Perhaps in the future we'll see a true 3D light hologram on stage being driven in real time by a performer backstage, using Cubic Motion's Persona facial capture tech twinned with an Xsens suit. Fully interactive, responsive and spontaneous – to all intents and purposes 'alive'.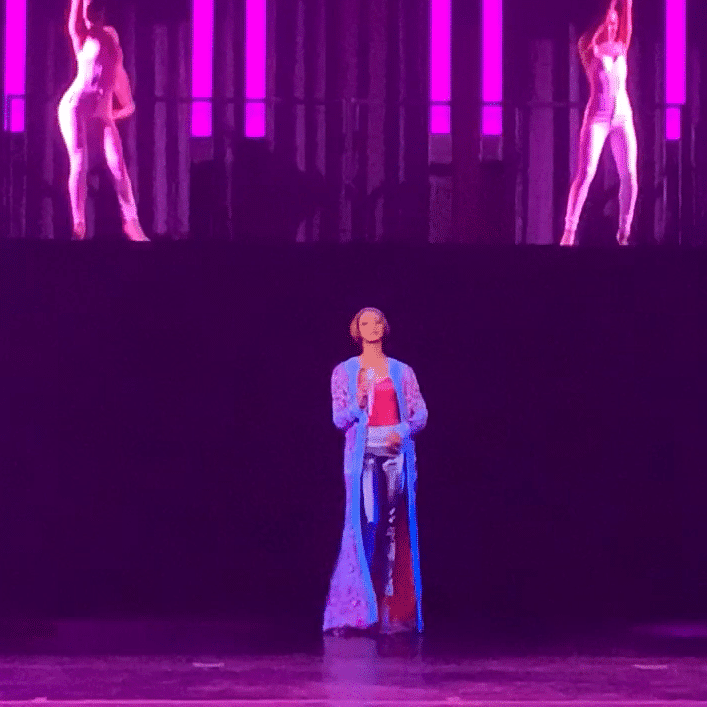 Maybe we'll have The Beatles performing on stage in every capital city of the world simultaneously courtesy of Port:l and their evolving take on the potential for holographic display.
Or, in a time when the Coronavirus sweeps the globe, maybe we'll all be able to stay at home in splendid self-isolation, jigging around our living room at home as our favourite artist performs on our coffee table for £29.99 courtesy of the Sky Hologram channel.
But what of the evening with Whitney? How does the hologram compare to the real thing? Well, in my case it's probably a bit of an unfair comparison as I only managed to catch her 'live' when her powers were clearly on the wane.  But, pound for pound, yes! The hologram experience was even better than the real thing.
Glenn Matchett, Managing Director, Grammatik Agency