The client
Axis Studios is an impressive venture. Its 300 artists, technical directors, animators, innovators and more work across Axis Animation, axisVFX and Flaunt Productions in three locations – Glasgow, London and Bristol – sharing work and expertise on some of the world's biggest and most impressive projects.
The studio's output is a riot of colour and imagination, and its company culture varied and progressive. It's truly one of the most exciting ventures operating out of the UK today.
Across its three facilities, Axis Studios produces VFX, animation and art for such projects as Channel 4 and Netflix's Kiss Me First, Aardman Animation's Early Man, SYFY's Happy!, and an ever-growing list of AAA gaming projects like Halo, The Elder Scrolls and Warhammer 40k.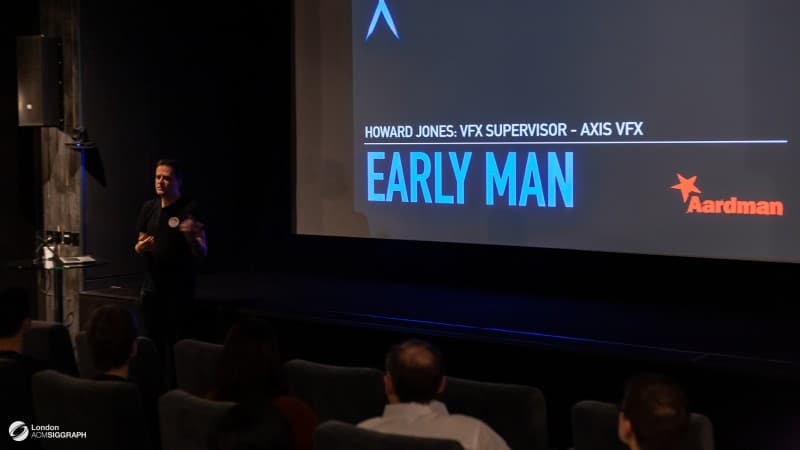 The brief
Axis Studios' VFX arm, axisVFX, undertook a mammoth task on Aardman's Early Man, delivering over 1,350 shots across the film, including the film's dramatic prologue, epic stadium shots, the moody badlands, lava, fire and water FX.
As part of our wider PR and marketing efforts for the studio's work on the film, we were keen to land a number of high-profile speaking slots for the film's VFX supervisor and axisVFX co-founder, Howard Jones.
We decided to submit a presentation to SIGGRAPH's prestigious London branch – which hosts a number of events celebrating the capital's Computer Graphics community.
We helped to pitch and promote a masterclasss featuring VFX supe Howard Jones, who revealed how Axis Studio's worked with Aardman to seamlessly blend visual effects shot with stop-motion.
The strategy
Concepting and pitching
We reached out to SIGGRAPH London's organisers to pitch a talk for Aardman's pre-historic epic, Early Man, with the film's experienced VFX supervisor Howard Jones. Axis Studios' work on the film had recently been recognised by the prestigious Annie Awards, which bolstered the pitch and subsequent event.
Promotion
Once the talk was secured with the SIGGRAPH London organisers, we set to devising an effective social media strategy to promote the event. We ensured key art was available for posters and other promotional materials and posted regularly across social media channels about the talk, which subsequently sold out. On the night, we provided live social media coverage of the talk, utilising Instagram's Story feature, as well as Twitter, Facebook and LinkedIn.
Event support
We maintained a constant conversation with SIGGRAPH London to ensure everyone involved had what they needed to make the event a success. We ensured any last-minute tech hiccups were dealt with swiftly and the timeline for the evening went accordingly.
The Results
Expansion of Axis' speaker profile
Increased presence for Axis at SIGGRAPH
Increased traction on social media, particularly Instagram